Focus on
what matters,
because
your hair
will look
great.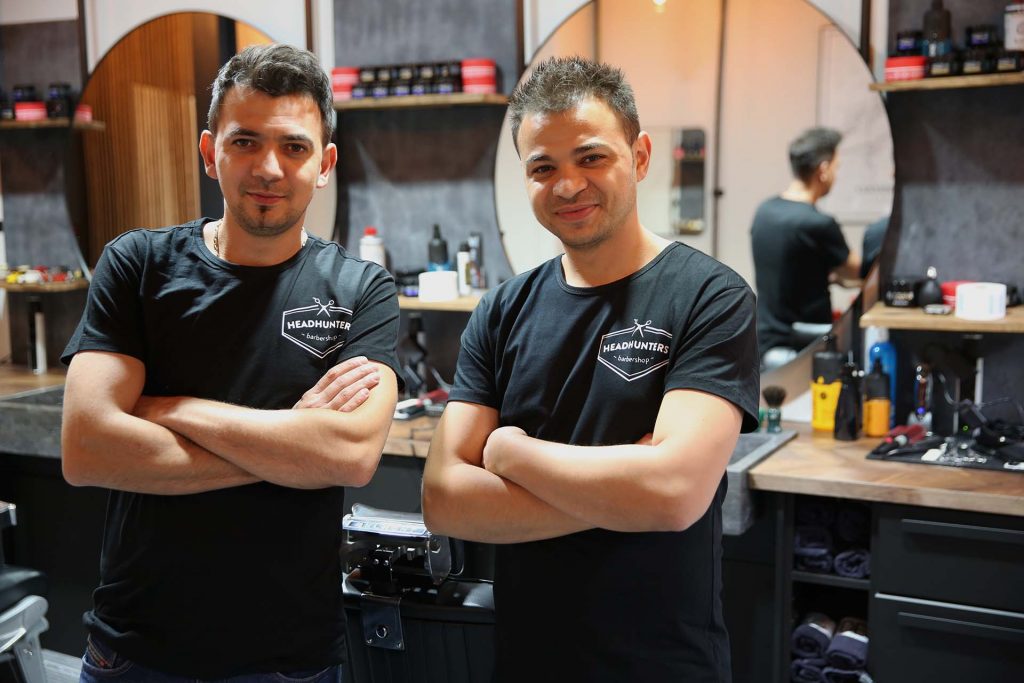 A barber is a challenging and ancient profession for the grooming of the man. Barbers are there for the haircut and facial hair.
At Headhunters Barbershop with Turgay and Mehmed, you can therefore choose from different treatments. Cutting, shaving, trimming, facial waxing and combinations, with us as a barber in Hoogvliet-Rotterdam you are always at the right place.
We'll knows that every prestigious gentleman should treat himself every now and then. We can play architect as well as artist, so sit back as they transform your hair style into a masterpiece.

Haircut Child till 13 years

€ 15

Headhunters Barbershop knows how to emphasize the nature of your child and will always help to show individuality with a good haircut.

We know how important it is to keep your beard and stubble. We'll shave your neck and cheeks with artisanal precision, flame your ears to scorch the slightest hair and strands if necessary.

Haircut & Beard Shave

€ 29

Dye Beard & Moustache

€ 15

If your head or beard has different in color hair - for example, red, or with gray hair, or just has an uneven color, then we can help to solve this problem. We will be smooth, perfectly matched to the hair, or under your color.

Facial waxing offers incredible precision and is very thorough. Best of all, most of our customers experience this treatment as painless.
Binnenban 263c
3191 CG Hoogvliet-Rotterdam
Professionele kappers en goede prijs kwaliteit verhouding.
That boring guy
09/05/2022
Two great barbers ,profesional , good vibe , i recoment this guys 👍🏻 And good coffee☕️
Leuke gasten, altijd gezellig en een lekkere bak koffie! Je kan zo binnen lopen en wordt altijd vriendelijk geholpen. Grt Buurman
Randy Driessen
08/05/2022
Voor het eerst mij laten knippen en scheren na het lezen van de lovende recensies. Deze barbier is elke ster meer dan waard. Van het kopje koffie bij binnenkomst tot het uiterst secure knip- en trimwerk, waar goed de tijd voor wordt genomen. Een geweldige ervaring.
Patrick Noordermeer
03/05/2022
Zeer goede kapperszaak. Je wordt ontzettend snel geholpen, zonder dat dit ten koste van de kwaliteit gaat. Zelfs eergisteren, 1 dag voor suikerfeest, een afspraak kunnen maken. Zeker een aanrader en mijn nieuwe vaste kapper.
Guilherme Almeida
29/04/2022
Recensies
We are temporarily closed due to the Covid-19 lockdown. This is until January 15, 2022.