Focus on
what matters,
because
your hair
will look
great.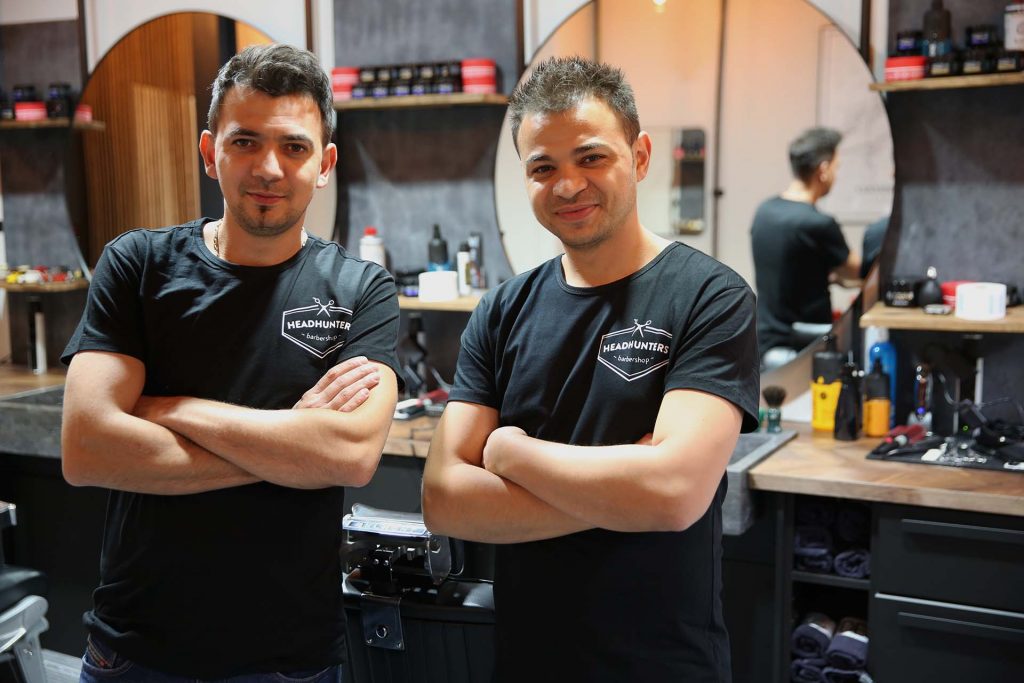 A barber is a challenging and ancient profession for the grooming of the man. Barbers are there for the haircut and facial hair.
At Headhunters Barbershop with Turgay and Mehmed, you can therefore choose from different treatments. Cutting, shaving, trimming, facial waxing and combinations, with us as a barber in Hoogvliet-Rotterdam you are always at the right place.
We'll knows that every prestigious gentleman should treat himself every now and then. We can play architect as well as artist, so sit back as they transform your hair style into a masterpiece.

Haircut Child till 13 years

€ 17

Headhunters Barbershop knows how to emphasize the nature of your child and will always help to show individuality with a good haircut.

We know how important it is to keep your beard and stubble. We'll shave your neck and cheeks with artisanal precision, flame your ears to scorch the slightest hair and strands if necessary.

Haircut & Beard Shave

€ 33

Facial waxing offers incredible precision and is very thorough. Best of all, most of our customers experience this treatment as painless.
Binnenban 263c
3191 CG Hoogvliet-Rotterdam
Hele goeie kappers en beleefd en vriendelijk. Kom er al een jaar en blijf er ook zeker komen. Knippen heel erg netjes.
Twee vriendelijke broeders. Zeer gastvrij, gezellig en goede service (lekkere koffie). Bekwaam in wat ze doen. We (ik en mijn twee zoons) zijn altijd tevreden over het resultaat. Een mooie aanwinst voor Hoogvliet.
Super toffe en vriendelijke broers. Knippen je haar altijd fantastisch en er hangt altijd een gezellige sfeer. Zeker een aanrader!!! Tot de volgende weer boys. – Scott
Easy to schedule, on time and great haircut! Highly recommended!
Rafael Queiroz
24/02/2023
Eerste bezoek en ontzettend tevreden over. De broers die de barbershop runnen zijn erg vriendelijk, sociaal en hebben humor. Zeer tevreden over het resultaat. Pluspunten voor de uitleg en het meedenken. Kom zeker terug en kan het iedereen aanraden.
Ik kom al jaren bij deze specialisten. Lekkere bakkie staat altijd klaar en het is er altijd gezellig.
Niets anders dan lof. Altijd vriendelijk, super service en knippen zeer goed!
Top kappers, lekkere koffie!
Bernards Grabovskis
18/02/2023
Beste kapper in hoogvliet en omstreken, Vriendelijke jonge mannen,zijn altijd klantvriendelijk service is goed. En houden wel van een praatje tijdens een kopje koffie
Satish Khoenkhoen
18/02/2023